Delight residential customers
with an exceptional
Wi-Fi experience
Wi-Fi Certification

Field Operations to Customer Care to Business Operations teams benefit from a fully integrated view of the in-home Wi-Fi experience,  achieving world-class business outcomes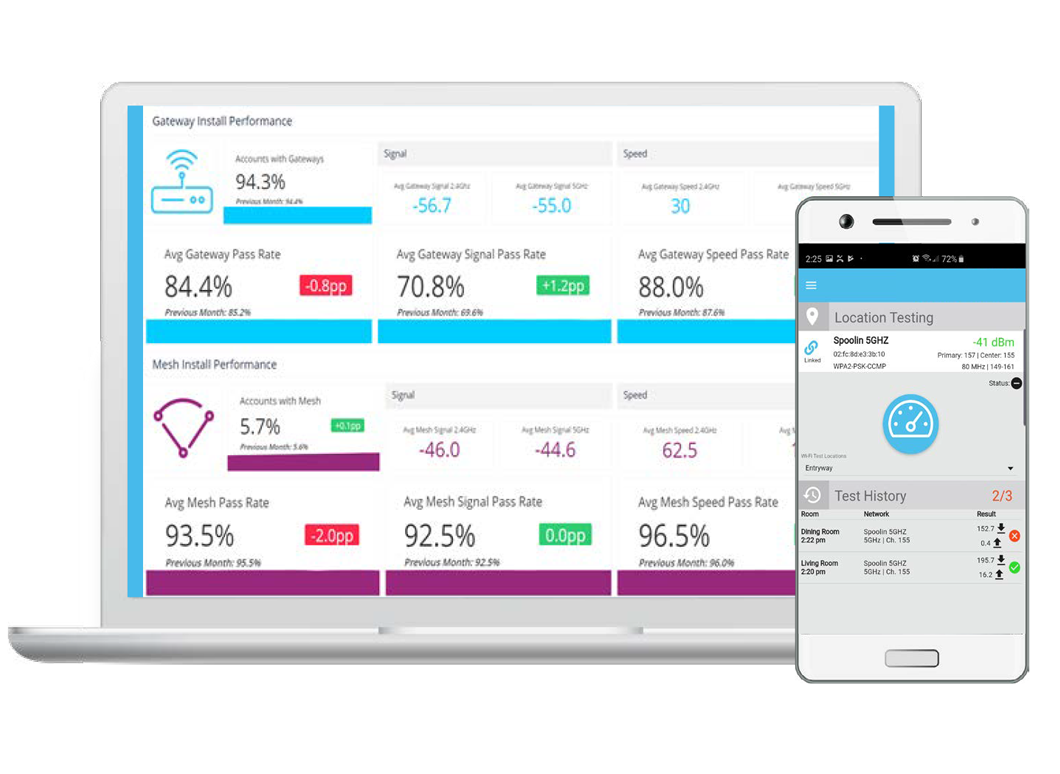 Problem Statement
Inconsistent installation quality resulting in slow and inconsistent Wi-Fi speeds.

Limited Wi-Fi coverage of the home.

Lack remote diagnosis of degraded streaming, gaming and other services over Wi-Fi.
Capabilities Summary
Wi-Fi Certification
Ensure the installation is done right the first time.

Proactive Monitoring
Continuous collection of     Wi-Fi KPIs to help identify root cause of intermittent problems.

Remote Troubleshooting
Empower Care team and customers to diagnose and resolve Wi-Fi problems without escalation.

Assurance Analytics
Discover problems and initiate actions to resolve.
Ready to see this application in action?
Reduced OPEX

Increased ability for Care to resolve Wi-Fi problems without escalating.

Decrease unnecessary dispatches, repeat truck rolls, and needless hardware swaps.

Enable customers to diagnosis and resolve their own Wi-Fi issues, deflecting calls from Care team.
Provide residential customers with an exceptional Wi-Fi experience

Faster Wi-Fi speeds.

More cohesive Wi-Fi coverage.

Improved reliability of services dependant on Wi-Fi.
Residential Wi-Fi certification and assurance delivers value through:
Increasing Net Promotor Score while differentiating your Wi-Fi service from other CSPs.


Reduction Wi-Fi calls to Care team.

Enabling Field resources to preform more new installs by reducing the need to re-visit enterprises due to Wi-Fi problems.

Pairing deep domain expertise in telecommunications
with advanced, human-centered automation, Mariner is a uniquely qualified service and solution provider.
Wi-Fi Certification & Assurance